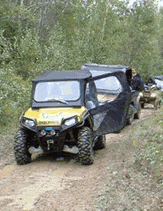 From Sea to trees, rugged and beautiful, this area has some of the most beautiful coastline and forest that you will ever see. There are over 700 miles in the local trail system now. Local clubs groom these trails in the winter and provide maintenenace in the summer. These trails make for very enjoyable rides.Ridge Riders Trail club was formed in 1999. We recognized a need for a trail club with an interest in expanding the existing trail system. We are a club with members that have worked hard to improve the summer and winter trails, we have spent countless hours grooming and brainstorming. Now we are spending countless hours enjoying those well groomed trails. Come join us, we are always welcoming new members for great rides, relaxation and great fun!
We are fortunate to have been able to receive assistance from many local businesses such as Hanscom Construction Co. Inc., Whitney's Tool Shed and Coastal Ventures. Ridge Riders Trail Club partnering with local entities such as the Washington County Soil and Water Conservation District, The East Machias and Machias Watershed Councils has received valuable guidance on trail maintenance that also preserves Maine's natural beauty. We are partnering with many entities to improve Ecotourism in WashingtonCounty. With the help of the Maine State Department of Conservation Trail Maintenence Grant we were able to purchase two new trail groomers. Use of these groomers will greatly enhance the riders enjoyment. Ridge Riders Trail Club invites you to come enjoy Downeast Maine where you will find some of the finest trails year round. We offer plenty of local motels and restaurants for your comfort. The club has been actively advocating for the Rails to Trails Coalition trying to get more trails opened up for public use.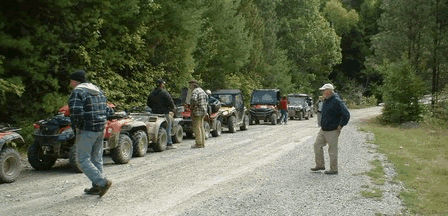 Monthly Meetings held at:
Whitney's Tool Shed
5 Bridge Street, Machias, Maine 04654
(at the foot of college hill)
We meet the First Thursday
of every month @ 7:00 p.m.

We always welcome new people, come join us!
Site updated by Cindys Works 08/21/2013